Demis Roussos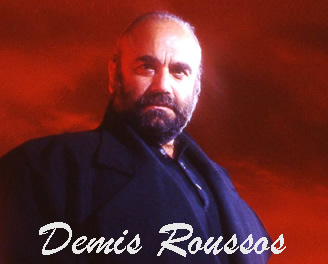 Artemios ('Demis') Ventouris Roussos was born in Alexandria, Egypt on June 15, 1946.
1979 was the year for a united Europe. Demis' album "Universum" was released.
David Mackay was engaged as the producer for Demis' album "Man Of The World" in 1980.
In 1987 Demis returned to the studio for an album with new digital recorded versions of his greatest hits.
In 1988 the CD "Time" was released.
In 1992 "Story Of" and "X-mas Album" were successful releases for Demis.
In 1995 & 1996 Demis recorded three albums in Holland; "Demis Roussos In Holland", "Immortel" and "Serenade".
Demis Roussos – albums in iTunes:
| | | |
| --- | --- | --- |
| album | album title | iTunes link |
Click on album to see tracklist
Click on Open in iTunes to hear and buy album in iTunes
| | | |
| --- | --- | --- |
| | Demis Roussos Greatest Hits: Forever and Ever | |
| | | |
| --- | --- | --- |
| | The Best of Demis Roussos | |
Demis Roussos – tracks in iTunes:
| | | | |
| --- | --- | --- | --- |
| album | album title | track title | iTunes link |
Click on album to see albumlist
Click on Open in iTunes to hear and buy track in iTunes
| | | | |
| --- | --- | --- | --- |
| | Demis Roussos Greatest Hits – Forever and Ever | Forever and Ever | |
| | | | |
| --- | --- | --- | --- |
| | Demis Roussos Greatest Hits – Forever and Ever | Rain and Tears | |
| | | | |
| --- | --- | --- | --- |
| | Demis Roussos Greatest Hits – Forever and Ever | Goodbye My Love Goodbye | |
| | | | |
| --- | --- | --- | --- |
| | Demis Roussos Greatest Hits – Forever and Ever | Quand je t'aime | |
| | | | |
| --- | --- | --- | --- |
| | Demis Roussos Greatest Hits – Forever and Ever | We Shall Dance | |
| | | | |
| --- | --- | --- | --- |
| | Demis Roussos Greatest Hits – Forever and Ever | Island of Love | |
| | | | |
| --- | --- | --- | --- |
| | Demis Roussos Greatest Hits – Forever and Ever | My Friend the Wind (Single Version) | |
| | | | |
| --- | --- | --- | --- |
| | Demis Roussos Greatest Hits – Forever and Ever | My Reason | |
| | | | |
| --- | --- | --- | --- |
| | Demis Roussos Greatest Hits – Forever and Ever | Happy to Be On an Island In the Sun | |
| | | | |
| --- | --- | --- | --- |
| | Demis Roussos Greatest Hits – Forever and Ever | I Want to Live | |
| | | | |
| --- | --- | --- | --- |
| | Demis Roussos Greatest Hits – Forever and Ever | It's Five O'clock | |
| | | | |
| --- | --- | --- | --- |
| | Demis Roussos Greatest Hits – Forever and Ever | Marie Jolie | |
| | | | |
| --- | --- | --- | --- |
| | Demis Roussos Greatest Hits – Forever and Ever | Because | |
| | | | |
| --- | --- | --- | --- |
| | Demis Roussos Greatest Hits – Forever and Ever | Break | |
| | | | |
| --- | --- | --- | --- |
| | Demis Roussos Greatest Hits – Forever and Ever | End of the World | |
| | | | |
| --- | --- | --- | --- |
| | Demis Roussos Greatest Hits – Forever and Ever | Lovely Lady of Arcadia | |
| | | | |
| --- | --- | --- | --- |
| | Demis Roussos Greatest Hits – Forever and Ever | Spring Summer Winter and Fall | |
| | | | |
| --- | --- | --- | --- |
| | Demis Roussos Greatest Hits – Forever and Ever | Such a Funny Night | |
| | | | |
| --- | --- | --- | --- |
| | Demis Roussos Greatest Hits – Forever and Ever | When Forever Has Gone | |
| | | | |
| --- | --- | --- | --- |
| | Demis Roussos Greatest Hits – Forever and Ever | Tropicana Bay | |
| | | | |
| --- | --- | --- | --- |
| | Demis Roussos Greatest Hits – Forever and Ever | Eleni (Single Version) | |
| | | | |
| --- | --- | --- | --- |
| | Demis Roussos Greatest Hits – Forever and Ever | Summerwine (With Nancy Boyd) | |
| | | | |
| --- | --- | --- | --- |
| | Demis Roussos Greatest Hits – Forever and Ever | One Way Wind | |
| | | | |
| --- | --- | --- | --- |
| | Demis Roussos Greatest Hits – Forever and Ever | Come Waltz With Me | |
| | | | |
| --- | --- | --- | --- |
| | Demis Roussos Greatest Hits – Forever and Ever | Summer In Her Eyes | |
| | | | |
| --- | --- | --- | --- |
| | Demis Roussos Greatest Hits – Forever and Ever | Give Me Back My Love | |
| | | | |
| --- | --- | --- | --- |
| | Demis Roussos Greatest Hits – Forever and Ever | You Don't Own Me | |
| | | | |
| --- | --- | --- | --- |
| | Demis Roussos Greatest Hits – Forever and Ever | On My Own | |
| | | | |
| --- | --- | --- | --- |
| | Demis Roussos Greatest Hits – Forever and Ever | Mon Amour (Duet With Anny Schilder) | |
| | | | |
| --- | --- | --- | --- |
| | Demis Roussos Greatest Hits – Forever and Ever | My Broken Souvenirs | |
| | | | |
| --- | --- | --- | --- |
| | Demis Roussos Greatest Hits – Forever and Ever | Sailin' Home | |
| | | | |
| --- | --- | --- | --- |
| | Demis Roussos Greatest Hits – Forever and Ever | Quantanamera | |
| | | | |
| --- | --- | --- | --- |
| | Demis Roussos Greatest Hits – Forever and Ever | Greater Love | |
| | | | |
| --- | --- | --- | --- |
| | Demis Roussos Greatest Hits – Forever and Ever | Follow Me | |
| | | | |
| --- | --- | --- | --- |
| | Demis Roussos Greatest Hits – Forever and Ever | Amis pour la vie | |
| | | | |
| --- | --- | --- | --- |
| | Demis Roussos Greatest Hits – Forever and Ever | Velvet Mornings | |
| | | | |
| --- | --- | --- | --- |
| | Demis Roussos Greatest Hits – Forever and Ever | In My Dreams | |
| | | | |
| --- | --- | --- | --- |
| | Demis Roussos Greatest Hits – Forever and Ever | Another Time | |
| | | | |
| --- | --- | --- | --- |
| | Demis Roussos Greatest Hits – Forever and Ever | Bridge Over Troubled Water | |
| | | | |
| --- | --- | --- | --- |
| | Let's Hang On, Remember The 60's (And More) | Summerwine (With Nancy Boyd) | |
| | | | |
| --- | --- | --- | --- |
| | The Best of Demis Roussos | My Friend the Wind (Single Version) | |
| | | | |
| --- | --- | --- | --- |
| | The Best of Demis Roussos | Goodbye My Love Goodbye | |
| | | | |
| --- | --- | --- | --- |
| | The Best of Demis Roussos | My Reason | |
| | | | |
| --- | --- | --- | --- |
| | The Best of Demis Roussos | In Love | |
| | | | |
| --- | --- | --- | --- |
| | The Best of Demis Roussos | Forever and Ever | |
| | | | |
| --- | --- | --- | --- |
| | The Best of Demis Roussos | Fascination | |
| | | | |
| --- | --- | --- | --- |
| | The Best of Demis Roussos | We Shall Dance | |
| | | | |
| --- | --- | --- | --- |
| | The Best of Demis Roussos | Tropicana Bay (duet with Nancy Boyd) | |
| | | | |
| --- | --- | --- | --- |
| | The Best of Demis Roussos | Summer In Her Eyes | |
| | | | |
| --- | --- | --- | --- |
| | The Best of Demis Roussos | Spring Summer Winter and Fall | |
| | | | |
| --- | --- | --- | --- |
| | The Best of Demis Roussos | Rain and Tears | |
| | | | |
| --- | --- | --- | --- |
| | The Best of Demis Roussos | Mon amour (duet with Anny Schilder) | |
| | | | |
| --- | --- | --- | --- |
| | The Best of Demis Roussos | Eleni | |
| | | | |
| --- | --- | --- | --- |
| | The Best of Demis Roussos | Minuit Chrétien | |
| | | | |
| --- | --- | --- | --- |
| | The Best of Demis Roussos | Nature Boy | |
| | | | |
| --- | --- | --- | --- |
| | The Best of Demis Roussos | Oh Come All Ye Faithful | |
| | | | |
| --- | --- | --- | --- |
| | The Best of Demis Roussos | Futureless Forever | |
| | | | |
| --- | --- | --- | --- |
| | The Best of Demis Roussos | On My Own (duet with Rob de Nijs) | |
| | | | |
| --- | --- | --- | --- |
| | The Best of Demis Roussos | When a Child Is Born | |
| | | | |
| --- | --- | --- | --- |
| | The Best of Demis Roussos | Little Drummer Boy | |
| | | | |
| --- | --- | --- | --- |
| | The Best of Demis Roussos | Break | |
| | | | |
| --- | --- | --- | --- |
| | The Best of Demis Roussos | End of the World | |
| | | | |
| --- | --- | --- | --- |
| | The Best of Demis Roussos | Marie Jolie | |
| | | | |
| --- | --- | --- | --- |
| | The Best of Demis Roussos | Mourir Auprès de Mon Amour | |
| | | | |
| --- | --- | --- | --- |
| | The Best of Demis Roussos | Because | |
| | | | |
| --- | --- | --- | --- |
| | The Best of Demis Roussos | Give Me Back My Love | |
| | | | |
| --- | --- | --- | --- |
| | The Best of Demis Roussos | Red Rose Cafe | |
| | | | |
| --- | --- | --- | --- |
| | The Best of Demis Roussos | You Don't Own Me | |
| | | | |
| --- | --- | --- | --- |
| | The Best of Demis Roussos | Paloma Blanca | |
| | | | |
| --- | --- | --- | --- |
| | The Best of Demis Roussos | No More Boleros | |
| | | | |
| --- | --- | --- | --- |
| | The Best of Demis Roussos | How | |
| | | | |
| --- | --- | --- | --- |
| | The Best of Demis Roussos | Amis Pour La Vie | |
| | | | |
| --- | --- | --- | --- |
| | The Best of Demis Roussos | Summerwine (duet with Nancy Boyd) | |
| | | | |
| --- | --- | --- | --- |
| | The Best of Demis Roussos | Another Time | |
| | | | |
| --- | --- | --- | --- |
| | The Best of Demis Roussos | Immortel | |
| | | | |
| --- | --- | --- | --- |
| | The Best of Demis Roussos | Sister May | |
| | | | |
| --- | --- | --- | --- |
| | The Best of Demis Roussos | My Broken Souvenirs | |
| | | | |
| --- | --- | --- | --- |
| | The Best of Demis Roussos | Come Waltz With Me | |
| | | | |
| --- | --- | --- | --- |
| | The Best of Demis Roussos | Thimame | |
| | | | |
| --- | --- | --- | --- |
| | The Best of Demis Roussos | Serenade | |
| | | | |
| --- | --- | --- | --- |
| | The Best Seventies Hits Ever Various Artists | My Friend the Wind (Single Version) | |
| | | | |
| --- | --- | --- | --- |
| | The Best Sixties Hits Ever Various Artists | Rain and Tears | |
| | | | |
| --- | --- | --- | --- |
| | The Best Sixties Hits Ever Various Artists | I Want to Live | |
Demis Roussos – Video samples:
 

Demis Roussos

Van Alle Tijden Spot Met Demis Roussos
 

Demis Roussos

Demis Roussos – Top 100
Demis Roussos – Original Masters:
 
Artist
Version
Year
NL
B
D
UK
USA
F
S
CH
Japan
I
E
 
1
Break
RR
1972
30/ 5w
 
 
 
 
 
 
 
 
 
 
2
End Of The World
RR
1969
 
 
 
 
 
4/ 16w
 
 
 
12/ 12w
 
3
Forever And Ever
RR
1973
2/ 13w
1/ 16w
26/ 9w
1/ 12w
 
1/ 24w
1/ 48w
 
 
10/ 16w
1/ 18w
4
Goodbye My Love Goodbye
RR
1973
3/ 12w
1/ 17w
1/ 39w
 
 
1/ 20w
 
1/ 21w
 
9/ 24w
3/ 13w
5
Happy To Be On An Island In The Sun
RR
1975
 
 
 
5/ 10w
 
 
 
 
 
 
1/ 20w
6
Quisiera Bailar Esta Cancion
RR Happy To Be.. in Spanish
1975
 
 
 
 
 
 
 
 
 
 
 
7
I Want To Live
RR
1969
1/ 12w
 
38/ 1w
 
 
1/ 12w
 
 
 
9/ 12w
 
8
It's Five O'Clock
RR
1970
12/ 6w
 
 
 
 
1/ 16w
 
 
 
1/ 16w
 
9
Marie Jolie
RR
1969
4/ 8w
 
 
 
 
2/ 15w
 
 
 
 
 
10
Mourir Aupres De Mon Amour
RR Because in French
1977
 
26/ 1w
 
 
 
1/ 20w
 
 
 
 
4/ 11w
11
Because
RR
1977
 
 
 
39/ 4w
 
 
 
 
 
 
 
12
Morir Il Lado De Mi Amor
RR Because in Spanish
 
 
 
 
 
 
 
 
 
 
 
 
13
My Friend The Wind
RR
1973
1/ 14w
1/ 15w
7/ 15w
1/ 12w
 
 
 
 
 
 
 
14
My Friend The Wind
RR Single version
 
 
 
 
 
 
 
 
 
 
 
 
15
My Reason
RR
1972
2/ 11w
2/ 13w
 
 
 
1/ 16w
 
 
 
 
2/ 10w
16
Rain And Tear
RR
1968
2/ 14w
7/ 13w
28/ 8w
30/ 7w
 
1/ 16w
 
 
 
2/ 20w
 
17
Rain And Tears
Live
 
 
 
 
 
 
 
 
 
 
 
 
18
Schones Madchen Aus Arcadia
RR
1973
1/ 14w
1/ 12w
6/ 22w
 
 
 
 
2/ 14w
 
 
 
19
Lovely Lady Of Arcadia
RR
1973
 
 
 
 
 
5/ 12w
 
 
 
 
8/ 12w
20
Spring Summer Winter And Fall
RR
1970
12/ 8w
25/ 2w
 
 
 
10/ 8w
 
 
 
1/ 16w
 
21
Such A Funny Night
RR
1971
9/ 7w
 
 
 
 
 
 
 
 
 
 
22
We Shall Dance
RR
1971
7/ 9w
9/ 11w
29/ 6w
 
 
3/ 24w
 
 
 
2/ 20w
2/ 12w
23
When Forever Has Gone
RR
1974
23/ 4w
18/ 3w
 
2/ 10w
 
 
 
 
 
 
 
24
Time
 
 
 
 
 
 
 
 
 
 
 
 
 
25
Island Of Love
 
1986
26/ 4w
 
 
 
 
 
 
 
 
 
 
26
Tropicana Bay
Singleversion duet Nancy Boyd
1986
tip
 
 
 
 
 
 
 
 
 
 
27
On ecrit sur les murs
 
 
 
 
 
 
 
 
 
 
 
 
 
28
Quand Je T'Aime
 
1988
 
2/ 12w
 
 
 
3/ 27w
 
 
 
 
 
29
Summer In Her Eyes
 
1986
tip
 
 
 
 
 
 
 
 
 
 
30
The Moon And I
 
 
 
 
 
 
 
 
 
 
 
 
 
31
Turning
 
 
 
 
 
 
 
 
 
 
 
 
 
32
Step By Step
 
 
 
 
 
 
 
 
 
 
 
 
 
33
Mamy Blue
 
 
 
 
 
 
 
 
 
 
 
 
 
34
Dance Of Love
 
 
 
 
 
 
 
 
 
 
 
 
 
35
I Won't Give Up
 
 
 
 
 
 
 
 
 
 
 
 
 
36
My Song Of Love
 
 
 
 
 
 
 
 
 
 
 
 
 
37
Loving You
 
 
 
 
 
 
 
 
 
 
 
 
 
38
Let The Bells Ring
 
 
 
 
 
 
 
 
 
 
 
 
 
39
Looking For You
 
 
 
 
 
 
 
 
 
 
 
 
 
40
Young Love