Demis Roussos Biography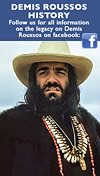 Artemios ('Demis') Ventouris Roussos was born in Alexandria, Egypt on June 15, 1946 as Olga and George's first son. During the Suez crisis, the quite well-to-do Roussos family, with their second son Kostas, left Egypt, leaving behind their possessions, and returned to the country of their ancestors, Greece.
In Athens in the mid-sixties, tourism was starting to flourish, which in turn supported the numerous bands around that city who played mostly cover versions of big hits from the west, expecially from England and the United States. Demis played in many of those bands, both as a trumpet player (the American trumpet player Harry James had made a great impression on him) and a bass player. It was not until Demis performed with the group "We Five" that he was able to show his abilities as a singer to the public. The group's lead singer decided to introduce a break into his performance, and thus allowed Demis to sing lead on the Animal's hit "House Of The Rising Sun". Night after night Demis sang his song, and later he also sang "When A Man Loves A Woman" and "Black Is Black" at the group's shows.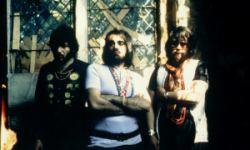 While performing in the big hotels in Athens such as the Hilton, Demis met many fellow musicians, including Vangelis Papathanassiou, the leader of the group Forminx, with whom Demis got along very well. Together with Agyrilos Koulourisand Loukas Sideras they founded a group, Aphrodite's Child (the name had been given to them by Lou Reisner), which was to become world famous. The group's first two recordings, "Plastics Nevermore" and "The Other People" were done for Phonogram in Greece, and were enthusiastically received in London and Paris. They received, and accepted gladly, an invitation to go to London in the beginning of 1968. However, they ran into a number of complications: it was very difficult to obtain a working permit at that time, especially for England. Additionally, Agyrilos Koulouris was drafted into the army, so that the three remaining members of the group ended up in Paris where Phonogram's producer Pierre Sberro recorded their single "Rain And Tears".
Aphrodite's Child was lucky to get "Rain And Tears" recorded when they did; the May riots in Paris in 1968 had brought the French economy to a virtual standstill. The single was an instant hit throughout Europe, and the group's first LP "End Of The World" was in the shops by the autumn of 1968. As a single, the title track was a flop, but in the summer of 1969, the group's adaptation of "Plaisir d'Amour", remamed "I Want To Live", headed all European chart lists. Its successor was a genuine rock & roll record, "Let Me Love Let Me Live", released at the end of 1969, but oddly enough it only scored in France and Italy, whereas other countries prefered the b-side, "Marie Jolie". A second LP was issued in March 1970 entitled "It's Five O'clock", the title track of which resulted in another number one single, followed by "Spring Summer Winter And Fall", in the summer of the same year.
When Aphrodite's Child began recording their third and last LP, "666", 'Silver' Koulouris had joined the band again as a fourth member, but there was trouble ahead. Vangelis wrote practically all of the group's music, thus making good earnings from the publishing, while other members had to rely on what they earned during performances. As Vangelis preferred to be in the studio working on his music, he regularly cancelled performances, which of course, harmed the others financially. Things came to a head while recording the album "666", and as a result, Demis and Loukas both went separate ways as of 1971. Vangelis, meanwhile, put the finishing touch on Aphrodite's Child's last LP.
Demis had made a single for Phonogram in France, but "We Shall Dance" was not immediately a hit. Then he embarked on a tour with Loukas Sideras, Harris Chalkitis and Lakis Vlavianos, among others. During this tour, "We Shall Dance" became an enormous hit in Italy, followed by Spain, Portugal, France and eventually all of Europe.
Demis' first solo album, "On The Greek Side Of My Mind", was released in November 1971. In March 1972, his second solo single, "No Way Out", was released, but unfortunately it was a flop. His third single, however, "My Reason", became a worldwide hit in the summer of 1972. Consequently, a second solo LP was recorded and released in April 1973, preceded by the single "Forever And Ever", which became a classic, selling more than 12 million copies to date. On his LP "Forever And Ever", there were no less that six hit singles, including "Goodbye My Love Goodbye", "Velvet Mornings", "Lovely Lady Of Arcadia", "My Friend The Wind" and "My Reason".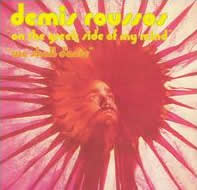 So in 1973 Demis was 'top of the billl' in Europe, Latin-America and Canada, and he gave concerts all over the world. In January 1974 during his first concert in the Ahoy in Rotterdam, Holland, he premiered his new single "Someday Somewhere". This became the forerunner of his third solo album, "My Only Fascination". In 1975, three of Demis' albums, "Forever And Ever", "My Only Fascination" and "Souvenirs", all headed the album top ten in England at a certain point. For the first time in history an EP commended the singles chart list. It was entitled 'The Roussos Phenomenon'. Demis owed his popularity mainly to his live performances, which earned him an unbelievable number of fans. This was duly noticed by the BBC, who televised a 50-minute special, 'The Roussos Phenomenon', which further spurred on the Roussos craze. In the meantime, in Germany, Demis had become a star with German hits such as "Goodbye My Love Goodbye", "Schönes Mädchen Aus Arcadia" and "Auf Wiedersehen". These songs were mostly written by Leo Leandros, who also produced the records.
France has always been a second home for Demis, and in an artistic sense it was his first. So it stands to reason that he recorded a French LP, in 1977. The title song of that LP, "Ainsi Soit-il" became a hit. Demis and Vangelis had a reunion and Vangelis produced Demis' 'Magic' album in 1977. A song from that album, "Because", became a huge hit in many countries, including France, where it was called "Mourir Aupres De Mon Amour". This became one of his biggest hits ever. In 1978 Demis went to the United States. Top producer Freddie Perren (Gloria Gaynor, Tavares) was assigned to adapt Demis' style to suit the American market. Despite the fact that both the single "That Once In A Lifetime" and the LP "Demis Roussos" were successful in Uncle Sam's country, the tour fell short of expectations.
1979 was the year for a united Europe. Demis' album "Universum" was released that year in no less than four languages: French, German, Italian and Spanish. Demis was particularly successful with the album in Italy and France, helped along by his hit "Loin Des Yeux, Loin Du Coeur". In Australia and New Zealand a compilation album was released entitled "The Roussos Phenomenon", backed up by an extensive tour, followed by the release of his first live recording, which was only released on LP in those countries where his concerts and records sales were soaring high at the time.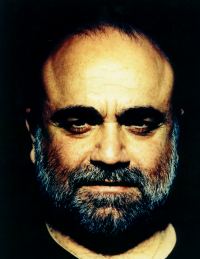 David Mackay was engaged as the producer for Demis' album "Man Of The World" in 1980 which resulted in a big hit, "Lost In Love", a duet with Florence Warner. His rendition of Harry Nilsson's "The Wedding Song" from the musical "Zapata" also became a big hit in France and Italy, and "Sorry" (written by Francis Rossi and Bernie Frost of Status Quo) caught on well in England. A vocal version of "Chariots Of Fire" was produced by Vangelis in 1981, "Race To The End", as a forerunner of the album "Demis". In 1982 Demis surprised everybody with "Attitudes" included the songs "Follow Me" and "House Of The Rising Sun". Unfortunately the album was not a commercial success, so Demis and Vangelis decided to record a new album of covers from the fifties and sixties called "Reflections". However, this album was also not successful and except for the LP "Senza Tempo" for an Italian company, Demis (who had been living in London for some time) fell silent.
With his girlfriend, Pamela, Demis flew from Athens to Rome on July 14, 1985. Their plane was hijacked and Demis was kept prisoner in Beirut for five days. For Demis the only way to get over this rather traumatic experience was to make music again. For that reason he went to Holland and recorded the single "Island Of Love", which can be considered a comeback, in the spring of 1986. Its successor, "Summerwine" (originally recorded only for a TV show) and the album "Greater Love", were released in August 1986, both turning gold in the process.
In 1987 Demis returned to the studio for an album with new digital recorded versions of his greatest hits. He also recorded his first Christmas album and two songs for a French company, "Les Oiseaux De Ma Jeunesse" and "Quand Je T'aime". The latter song was originally the b-side, but it became a big success through the discos in France, Belgium and Switzerland. In 1988 the CD "Time" was released, the title song of which was also released as a single, followed in 1989 by "Voice And Vision". From that album the song "On Ecrit Sur La Murs" became a big hit in France.
In 1992 "Story Of" and "X-mas Album" were successful releases for Demis on the Arcade label, both featuring a number of new songs. Both albums caught on in France and Germany and sold over 500,000 copies each.
1993 was an important year because we celebrated 25 years of Demis Roussos, first with his new album "Insight", including his contemporary version of "Morning Has Broken". That track had been released as a single and had been followed up by concerts later in 1993.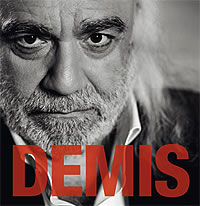 In 1995 & 1996 Demis recorded three albums in Holland; "Demis Roussos In Holland", "Immortel" and "Serenade". The first album he recorded as a special gift to his many fans in Holland. The second album contains French classics and for "Serenade" he recorded Italian Operas in a modern way. A few months after the release of his last album he made a deal with BMG in France, where he released in 1997 "mon île", a French album with ethnic influences.
In 2002 he performed over 30 concerts in the UK while his album "The Definitive Collection" proved to be once more a big success, making it to numer 17 in the album charts in the UK.
The rock soul album of Demis Roussos
After decades of success, after having made his mark on the history of music blending influences from Rock and Blues to Soul and Disco, Demis Roussos came back with a killer new album in 2009, blues and soul tainted, with a voice to die for. Simply called DEMIS.
Performing was his great passion but this all came to an end in 2014 when he became ill in August of that year. Demis passed away on the 25th of January 2015 leaving us with his enormous legacy of great music and irreplacable memories.