Releases
For orders with creditcard it is now of the biggest importance that you also include your CVC/CVV2-code (3-digit security code) (more info on CVC/CVV2-code). Also everybody who has ordered this year something with a creditcard, please submit your order again, incl. this code, otherwise we cannot proceed with your order.

TOP 40 - Het gedrukte exemplaar 1965 - 1974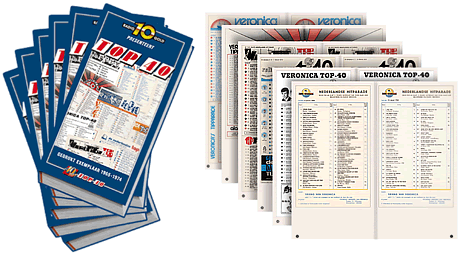 Release datum: maandag 6 juni
Prijs € 70,- incl. handling en verzendkosten

Alle Top 40 lijsten van de piratenjaren van Veronica gebundeld, soms compleet met advertenties en vanaf 1969 compleet met alle tipparades. In kleur, soms zelfs met lp-lijsten én natuurlijk ook met alle Top 100 jaaroverzichten. Een schitterend boekwerk, 195 x 370 mm, met maar liefst 616 pagina's!

ISBN 90-5971-020-7 (tevens bestelnummer)

Bestel nu Het Gedrukte Exemplaar >

Bent u boekhandelaar, stuur ons een mailtje voor info >
---

+

Demis Roussos - The Singles (release june 2003)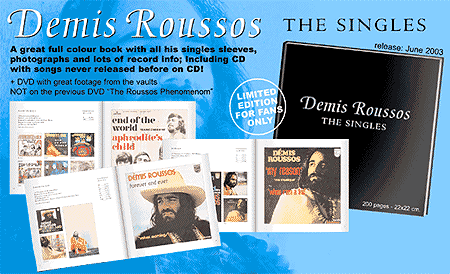 A great full colour book with all his singles sleeves, photographs and lots of of record info; including CD with songs never released before on CD! + DVD with great footage from the vaults (NOT on the previous DVD 'The Roussos Phenomenom)!
You can order the book only by transferring € 120,00
(€ 100,00 for the book and € 20,00 for postage) to:
BR MUSIC BV
Rabobank Nijkerk - Van 't Hoffstraat 24 - Nijkerk
account no. IBAN: NL59RABO 0377893242 in the name of BR Music BV.
Please state with the transfer very clear full name and address.
or you can send € 120,00 cash to:
BR MUSIC BV
PO Box 308 - 3860 AH Nijkerk - The Netherlands